For the upcoming EU elections we will interview Pirate Party top candidates – and current Pirate member of the European Parliament, Julia Reda – in short 10-15 minute audio/video interviews (playlist here).
Get to know the Czech Pirate Party #2 – Markéta Gregorová.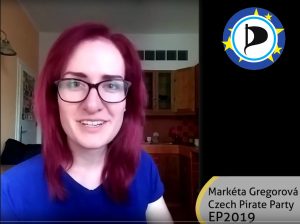 Markéta talks about what has happened in her country after Pirates had their smashing win in the 2017 parliamentary elections and explains what the upcoming EP2019 elections are about in her country.
---
Interviewers: Rico Brouwer, Raymond Johansen, Bailey Lamon
Pirate Parties International, Potkaars.nl