For the upcoming EU elections we will interview Pirate Party top candidates – and current Pirate member of the European Parliament, Julia Reda – in short 10-15 minute audio/video interviews (playlist here).
Get to know the Pirate Party Sweden#3 – Magnus Andersson.
Magnus is the chairperson of the Swedish Pirate Party since 2016 and number three on their candidate list. He joined the party in 2009, shortly after it was established. When he's not doing politics, he is working as a developer – process development and digitazion of processes.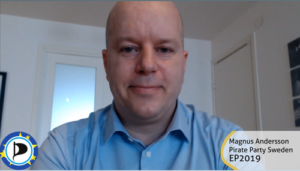 ---
Interviewers: Rico Brouwer, Raymond Johansen, Bailey Lamon
Pirate Parties International, Potkaars.nl